Marci X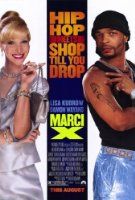 Director: Richard Benjamin
Actors: Lisa Kudrow, Damon Wayans, Richard Benjamin
Genres: Comedy, Music
Country: USA
Release Year: 2003
Duration: 84 min
Synopsis: While delivering an award to her humanitarian father Ben Feld, the stylish wealthy Jewish Caucasian Marci Feld is surprised by the attack of the conservative senator Mary Ellen Spinkle to her father in the media. The motive is the lyrics of the rap "Shoot Ya' Teacha " sing by Dr. S and released by the hip-hop record label Felony Assault that belongs to Ben. He has a heart attack, and his daughter decides to assume the problem and negotiate a public excuse of Dr. S in the MTV Award. However, the bad boy sings a polemic song on television to humiliate Merci that gives senator Sprinkle the chance to promote the "Buttgate"...
YOU ARE WATCHING: Marci X
The video keeps buffering? Just pause it for 5-10 minutes then continue playing!
Share Marci X movie to your friends. Share to support Putlocker
You May Also Like