Saraband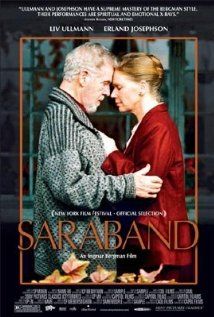 Director: Ingmar Bergman
Actors: Liv Ullmann, Erland Josephson, Börje Ahlstedt
Genres: Drama, Music
Country: Sweden, Italy, Germany, Finland, Denmark, Austria
Release Year: 2003
Duration: 107 min
Synopsis: Marianne and Johan meet again after thirty years without contact, when Marianne suddenly feels a need to see her ex-husband again. She decides to visit Johan at his old summer house in the western province of Dalarna. And so, one beautiful autumn day, there she is, beside his reclining chair, waking him with a light kiss. Staying at a cottage on the property are Johan's son Henrik and Henrik's daughter Karin. Henrik is giving his daughter cello lessons and already sees her future as staked out. Relations between father and son are very strained, but both are protective of Karin. They are all still mourning Anna, Henrik's much-loved wife, who died two years ago, yet who, in many ways, remains present among them. Marianne soon realizes that things are not all as they should be, and she finds herself unwillingly drawn into a complicated and upsetting power struggle...
YOU ARE WATCHING: Saraband
The video keeps buffering? Just pause it for 5-10 minutes then continue playing!
Share Saraband movie to your friends. Share to support Putlocker
You May Also Like