Kinsey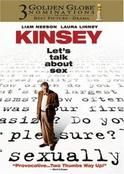 Director: Bill Condon
Actors: Liam Neeson, Laura Linney, Chris O'Donnell
Genres: Biography, Drama
Country: USA, Germany
Release Year: 2004
Duration: 118 min
Synopsis: Called Prok as an adult (short for Professor Kinsey), Alfred Kinsey has been interested in biology since he was a child growing up in the early twentieth century, despite the criticisms of such being nonsense from his overbearing and devoutly Christian father, professor Alfred Seguine Kinsey. Prok goes on to become a biology professor at Indiana University, initially focusing on the study of gall wasps. But those studies in combination with questions from his students, coming to terms with the needs of sex with his own wife, a former student of his named Clara McMillen (who he calls Mac), and what he sees as the gross misinformation on the subject currently within popular belief makes him change his focus to human sexuality. Many of those gross untruths - as he sees them - are that oral sex and masturbation cause a slew of maladies, which are perpetuated by what is presented in the university's hygiene class taught by Professor Thurman Rice. With the approval of faculty head Herman...
YOU ARE WATCHING: Kinsey
The video keeps buffering? Just pause it for 5-10 minutes then continue playing!
Share Kinsey movie to your friends. Share to support Putlocker
You May Also Like