And Starring Pancho Villa As Himself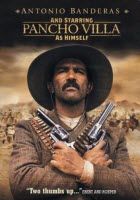 Director: Bruce Beresford
Actors: Antonio Banderas, Eion Bailey, Alan Arkin
Genres: Biography, Drama, History, War, Western
Country: USA
Release Year: 2003
Duration: 108 min
Synopsis: Mexican revolutionary Pancho Villa (Antonio Banderas) finds himself without adequate funding to finance his war against the military-run government. He also finds himself at odds with the Americans because of the Hearst media empire's press campaign against him. To counter both of these, he sends emissaries to movie producers to convince them to pay to film his progress and the actual battles. Producer D.W. Griffith (Colm Feore) becomes interested and sends Frank Thayer (Eion Bailey) with a film crew to develop film reels. Thayer becomes horrified and fascinated by the bandit. He finds an enigmatic individual that is both ghoulishly brutal and charmingly captivating. The resulting film became the first feature length movie, introducing scores of Americans to the true horrors of war that they had never personally seen. Thayer sold the studios on making the film despite their concerns that no one would sit through a movie longer than 1 hour by convincing them that they could raise the...
YOU ARE WATCHING: And Starring Pancho Villa As Himself
The video keeps buffering? Just pause it for 5-10 minutes then continue playing!
Share And Starring Pancho Villa As Himself movie to your friends. Share to support Putlocker
You May Also Like