Dust Up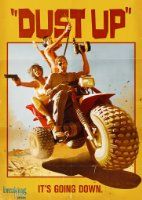 Director: Ward Roberts
Actors: Amber Benson, Jeremiah Birkett, Aaron Gaffey
Genres: Action, Adventure, Comedy, Horror, Thriller, Western
Country: USA
Release Year: 2012
Duration: 94 min
Synopsis: A one-eyed vigilante (Gaffey) with a dark past has vowed to change his ways, trading his machine gun for a yoga mat. But when he encounters a beautiful young mother (Benson) in deep trouble with a cannibalistic drug lord and his evil goons, he realizes that justice must be served. Teamed up with his smooth-talking Native American hipster sidekick, our hero rides into the bad ass brawl of the century...
YOU ARE WATCHING: Dust Up
The video keeps buffering? Just pause it for 5-10 minutes then continue playing!
Share Dust Up movie to your friends. Share to support Putlocker
You May Also Like